Pumpkin Loaf (gluten-free, dairy-free, sugar-free)
Contributed by Jana McDermid (Instagram: mcpinks)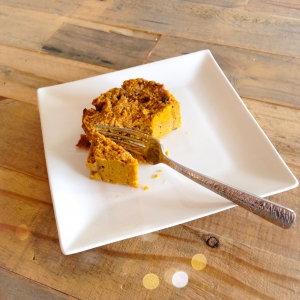 Serves 8-10
Ingredients:
1 cup all purpose gluten free flour

1/4 cup coconut flour

1/2 tsp sea salt

1/2 tsp baking soda

1 tsp cinnamon

1/2 tsp pumpkin pie spice

1 cup pumpkin

1/2 cup chocolate chips (I use Enjoy Life – a dairy, nut & soy free brand)

1/4 cup maple syrup

1/4 cup coconut oil

4 eggs
Directions:
Preheat oven to 325 degrees F

Combine all wet ingredients in a bowl

Combine all dry ingredients in another bowl

Mix both bowls together until well incorporated and fold in chocolate chips.

Pour into greased loaf pan and bake for 60-75 minutes. Depends on over, set for 60min and check. Add more time if needed.
      Served well warm with a nice glass of almond milk!   ​