Superfood Bars
(nut-free, gluten-free, grain-free, paleo, vegetarian, dairy-free)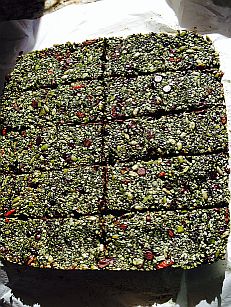 Ingredients:
1/3 cup of Hemp hearts
1/3 cup of Chia seeds
1/3 cup of Cacao Nibs
1/3 cup of Goji berries
1/2 cup finely Shredded Unsweetened Coconut
1/2 cup Pumpkin seeds, chopped
1/3 cup Sunflower Seeds
1/3 cup Sesame Seeds
1/3 cup Dried Cranberries, chopped
1/3 cup dairy-free mini chocolate chips
1Tbsp of Spirulina
2 Eggs
1 tsp Vanilla
1Tbsp Honey
Pinch Sea Salt
Pinch Cinnamon
Instructions
1. Grease a 9″x9″ pan with coconut oil or line with parchment paper.  Preheat oven to 350F.
2. Pumpkin seeds should be chopped to roughly the size of sunflower seeds. Cranberries should be chopped to the size of raisins or slightly smaller.
3. Blend eggs, vanilla and honey to completely combine (about 20 seconds).
4. Combine all the dry ingredients.  Pour wet blend over and mix to fully combine.  Pour into pan and press down evenly.
5. Bake for 20 minutes.  Let cool completely then cut into bars or squares.