Pumpkin Muffins
(Originally posted from Kiernan at K-Fitness. Forwarded to us by a patient at ANMC and it is such a great recipe we had to share it with all of you)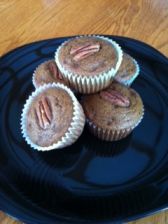 Ingredients
1/2 cup coconut flour (can substitute gluten-free all-purpose flour)
2 teaspoons ground cinnamon
1/2 teaspoon ground nutmeg
1/4 teaspoon ground cloves
1/2 teaspoon baking soda
1/2 teaspoon salt
1/2 cup canned puree natural pumpkin
6 eggs, beaten
3 Tablespoon coconut oil, melted
1/3 cup honey
1 teaspoon vanilla extract
12 pecans for topping (one for each muffin)
Instructions
1. Preheat oven to 400 degrees F. Oil muffin pans.
2. In a medium bowl, combine the coconut flour, spices, baking soda and salt.
3. In another bowl, place the pumpkin puree then add the eggs one at a time, mixing well after each addition. Add melted coconut, honey and vanilla and mix until well combined.
4. Add the flour mixture to the pumpkin mixture, blend with a whisk until most lumps have disappeared. 5. Spoon into prepared muffin pan, filling each muffin 2/3 full. Bake for 18-20 minutes or until golden. 6. Place on wire rack to cool.