Banana Bread (Paleo, Gluten-Free, Sugar-Free)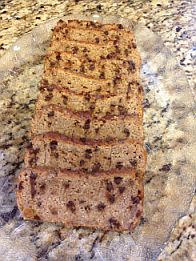 Ingredients
½ cup coconut flour
½ cup flaxseed meal
2-3 Medium bananas
½ cup organic butter or coconut oil
½ cup chocolate chips
½ teaspoon cinnamon
¾ teaspoon baking soda
½ cup raw honey
4 eggs
½ teaspoon vanilla extract
pinch of salt
Instructions
Preheat the oven to 350 degrees and grease a 8.5 x 4.5 loaf pan with butter/coconut oil or line the loaf pan with parchment paper
Combine bananas, coconut flour, flaxseed meal, cinnamon, baking soda, salt, eggs, butter, vanilla extract and honey in blender or food processor.
Pour mixture into a medium sized bowl and mix in the chocolate chips.
Spoon all of the batter into the loaf pan and spread it out evenly with a scraper.
Place in the oven for 40-45 minutes or until the center is pierced with a toothpick and the toothpick comes out clean.
Pull out of the oven and let it cool slightly (only for a minute or so) then carefully run a knife along the edges to make sure nothing is sticking and cautiously invert it onto your hand or a wire rack and flip it so the bottom is laying flat on the wire rack and let it cool for 20-30 minutes.