Asparagus Risotto
Contributed by Opa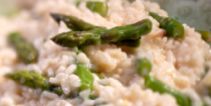 Ingredients (serves 4)
5 cups (1.25 litres) chicken or vegetable stock(gluten free)
2 tbs (30ml) extra virgin olive oil
25g unsalted butter, chopped
1 onion, finely chopped
2 cloves garlic, crushed
1 1/2 cups (354ml) arborio rice
2 bunches  (approximately 1½ lbs) asparagus, trimmed, cut into 2cm pieces
2 tsp (10 ml) finely grated lemon rind
2 tbs  (30 ml)lemon juice, or to taste
1 cup (237 ml) grated parmesan OR grated Manchego Sheep cheese
Preparation
Bring stock to the boil in a saucepan over medium heat. Reduce heat to low, cover and keep at a gentle simmer.
Heat oil and half the butter in a large saucepan over medium heat. Add onion and garlic, cook, stirring, for 4-5 minutes or until onion is soft.
Add rice and cook, stirring for 2-4 minutes or until rice is hot and well coated in onion mixture. Do not let the rice brown.
Add 1 cup hot stock and stir continuously until stock has nearly all been absorbed. Add another cup of stock. Stir until stock has nearly been absorbed.
Continue to add stock, a cupful at a time, stirring and allowing the stock to be absorbed before adding more.
Add asparagus to pan, and continue to add stock stirring frequently until mixture is creamy and rice is just tender (this should take about 20 minutes); add a little extra stock or water if necessary.
Add lemon rind, juice, remaining butter and cheese to risotto. Stir to combine. Season to taste with salt and pepper. Serve immediately.
Notes. Chicken risotto: You may like to include chicken in this risotto. Cut cooked chicken thigh or breast fillets into 2cm pieces. Add to risotto in step 6, together with the asparagus.