Kale Chips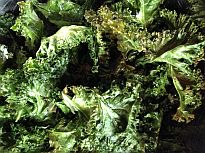 Ingredients
1 bunch of kale
2 tbsp of organic extra virgin olive oil
1 tsp of sea salt
Directions
Preheat oven to 350F. Line cookie sheet with parchment paper.
Wash kale leaves and dry well.
Use a knife and cut leaves off of thick stem and then cut the leaves into bite size pieces.
Put leaves into container with lid and add the organic extra virgin olive oil.  Put the lid on the container and shake until oil is evenly distributed on all the leaves.
Lay the leaves on top of the parchment paper, evenly spread out and then sprinkle sea salt on the leaves.
Put the cookie sheet in the oven for 10 minutes.  Spin the tray 180 degrees at 5mins.
Leaves should be crisp with slight brown edges.
Enjoy!