Julie's Gluten-Free Huckleberry Muffins
One of my favorite things to do while I'm on summer holidays in the Kootenays in BC is to pick
huckleberries so that I can make huckleberry muffins. Although I tend to eat Paleo/grain free most of
the time, these are one of the treats I make an exception for. You can easily substitute the huckleberries
for blueberries or saskatoons.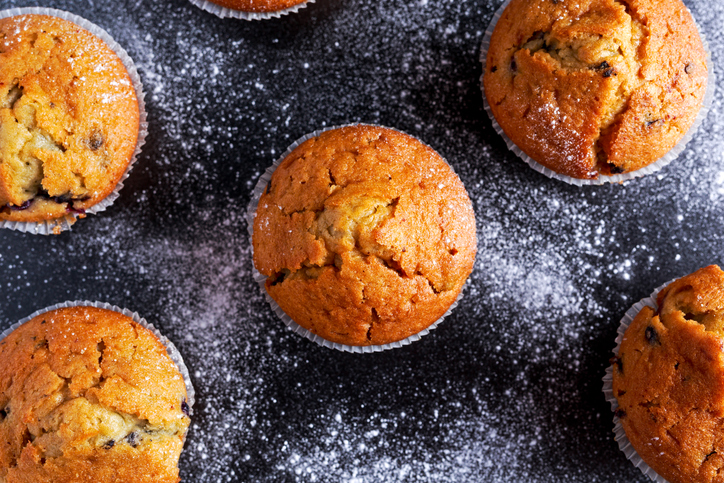 Ingredients:
1 ¾ cup gluten free flour (I use Cloud 9 All Purpose Baking Mix)
½ tsp sea salt
1 tsp baking soda
1 ½ tsp wheat and corn free baking powder
½ tsp cinnamon
2 eggs
½ cup avocado oil
1 cup unsweetened coconut beverage (I use the So Delicious brand)
1 tsp vanilla extract
1 cup coconut palm sugar
2 cups of huckleberries fresh or frozen (I like muffins with lots of berries but you easily
use less)
Instructions:
Preheat the oven to 350° and line a 12 cup muffin pan with muffin liners.
Combine the gluten-free flour, baking powder, baking soda, sea salt and cinnamon in a large bowl. Mix together the eggs,
avocado oil, vanilla, coconut beverage, and sugar in a separate bowl and slowly add to the dry
ingredients, stirring as you go.
Once the batter has mixed, fold in the berries and scoop into the muffin liners. Bake at 350° for 28 minutes or until cooked through (an inserted toothpick comes out clean).
Let cool for a few minutes and enjoy (my favorite way is with ample organic butter!)