Paletas (Mexican Ice Pops)
I  tasted my first PALETA  on a beach in Mexico. Most recently, I've seen vendors offering them at summer music festivals.
Paletas are frozen fruit bars on a stick, – the Mexican version of 'popsicles'.  Made with wholesome ingredients such as fresh fruits and purees, while some of the traditional flavours may be dairy-based.  These yummy treats are whole food, nutrient-dense, and you can create any flavour combination. Make them dairy-free and beautifully rich by using coconut milk.
Frozen pop molds an be purchased in specialty kitchen stores or online, (like Amazon.) I use an extra large ice cube silicon tray and some wooden sticks found at a grocery, kitchen or crafting store.
Here are a few flavour combinations. I sweeten with coconut nectar thinned with a small amount of hot water – the glycemic index is low and it adds a subtle coconut flavour.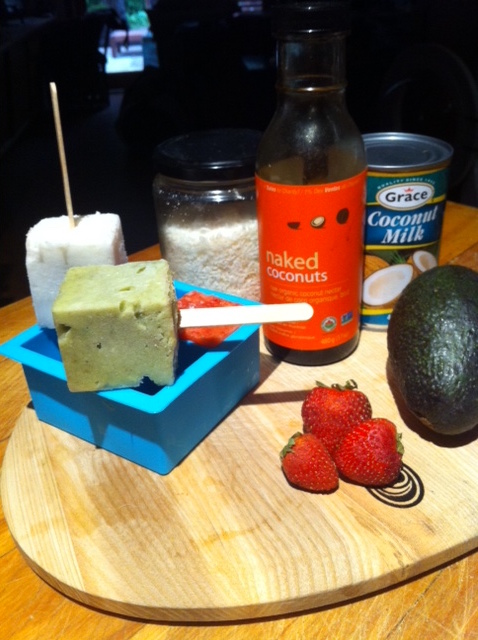 STRAWBERRY, MINT & LIME PALETA
Ingredients:
2 cups of washed and halved fresh strawberries
½  cup fresh mint leaves
½ c lime juice
zest of ½ organic lime
pinch of sea salt
3 Tbsp coconut nectar or Maple syrup, thinned with 1/3 cup boiled water
Instructions:
Add all ingredients into a blender and puree until smooth.
Divide among the molds and insert sticks, doesn't matter if they don't stand up straight
Freeze until solid, minimum 4 hours
AVOCADO, CACAO & COCONUT PALETA (a healthy fudgsicle!)
Ingredients:
1/3 cup raw cacao powder
1 ½ cups unsweetened light coconut milk, or carton/refrigerated coconut milk
2 small perfectly ripe avocadoes (use Haas variety, as they give a smooth texture)
-use 1 Tbsp of coconut nectar or maple syrup if desired
Instructions:
Heat coconut milk on the stove
Add raw cacao powder and sweetener, blend with whisk
Cool completely
Slice avocado in half, remove pit, scoop out avocado flesh
Add all ingredients into a blender and puree until smooth.
Divide among the molds and insert sticks
Freeze until solid, minimum 4 hours
DECADENT COCONUT PALETA
Ingredients:
1 can full fat coconut milk
3 Tbsp real maple syrup
1 Tbsp vanilla extract
1 Tbsp unsweetened, shredded coconut
Instructions:
Mix all the ingredients together in a bowl and pour into the molds.
Place in freezer and let sit for 4 hours