Pan Fried Salmon Fillet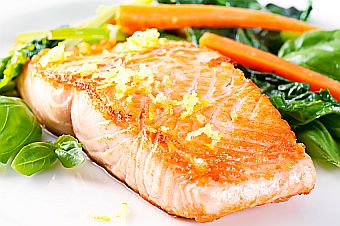 Ingredients
2-3 Salmon Fillet
2tbsp of extra virgin olive oil
2tbsp of pure maple syrup per fillet
2tbsp of Gluten-free TAMARI soya sauce
1tbsp of chopped fresh garlic
1tbsp of lemon zest (garnish)
Directions
Turn frying pan to medium heat.  Once warm all oil to pan, then put fillets in oil on pan.
Put garlic on top of fillets, then pour maple syrup and soya sauce on top of fillet.
Cook fillets for about 2-3 minutes a side, until cooked all the way through.
Garnish with lemon zest.