Pineapple Coconut Cashew Rice
Contributed by Jana McDermid
Prep Time: 5mins
Cook Time: 20mins
Total Time: 25mins
Serves: 4-6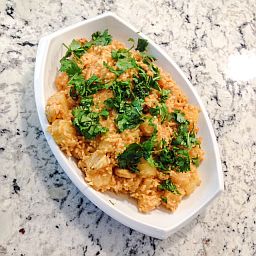 Ingredients
1 1/2 cups uncooked brown rice, rinsed & drained.
1 20oz can pineapple chunks in juice (not syrup)
1 13.5oz unsweetened coconut milk
3 tablespoons unsweetened coconut flakes
1 1/2 tablespoon Thai red curry paste
1 teaspoon garlic powder
1/2 teaspoon onion powder
1/2 teaspoon ground ginger
Pepper to taste
Garnish
3 tablespoons lime juice
1/2 cup unsalted roasted cashews
1/2 cup chopped cilantro
Instructions
1) Drain pineapple juice into a measuring cup. Add coconut milk to equal 3 cups liquid, adding water if necessary.
2) Add liquid to a large pan & bring to a gentle simmer then stir in all ingredients EXCEPT garnish.  Bring to a boil then cover and reduce heat to low. Simmer for 20 mins it until rice is tender.
3) When ready to serve, stir in lime juice, cilantro & cashews.
4) Taste and season with more pepper and lime juice to taste if desired.