Mashed faux-tatoes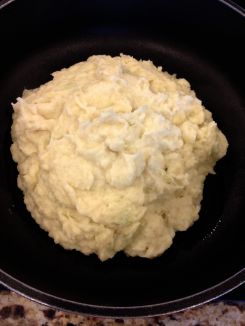 Ingredients:
2 leeks, sliced
4 cloves of garlic, diced
2tbsp of organic extra-virgin olive oil
1tsp of sea salt
4 celeriac, peeled and cubed
¼ cup of organic butter
½ cup of almond milk
Directions
Preheat oven to 400F.
Slice leek into thick slices and place on cookie tray with the diced garlic.  Dizzle olive oil over leeks and sprinkle with sea salt.  Roast in oven for 20mins.
Boil celeriac in water in pot until soft for about 10mins.  Drain water and add celeriac to blender.
Add the leeks, garlic, butter, almond milk to blender and blend until smooth.