Bean Salad  (Gluten Free)
Contributed by Opa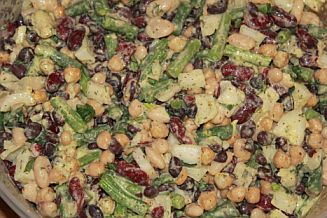 Ingredients:
Dressing:
1 Tsp.      Fresh chopped basil
1 Tbsp.    Fresh chopped oregano
2 Tbsp.    Balsamic vinegar
2 Large    cloves of garlic chopped or 3-4 small cloves of garlic
1 Small    Onion coarsely chopped
2 Tbsp     Lemon juice
3 Tbsp     Olive Oil
1 Tbsp     Prepared mustard (yellow, Dijon or specialty, check for gluten fee)
1 Tbsp     Sugar (The dressing needs the sugar, but it can be increased to suit your taste)
Salt and cracked black pepper to taste
Salad
2 to 3 Cups        Green Beans (Fresh are best but frozen may be used in a pinch)
1 Can  796 ml    Six Bean Blend (or use any bean you like; Kidney, Black, Pinto, Northern, etc.)
1 Can  796 ml    Chickpeas
1 Large               Sweet Onion diced (Texas sweet or Vidalia are best)
1 to 2 Tbsp        Fresh Dill or to taste
3 Tbsp                Fresh chopped mint
1 to 2 Tbsp.       Fresh chopped parsley
Optional:   Yellow Beans, Green onions, Roasted red peppers, Cherry tomatoes, Diced cucumber, Diced celery, Edamame(frozen and shelled)
Preparation
Blend all dressing ingredients in a blender, adding mustard will give a creamy dressing that will not separate into oil and vinegar. Set aside.  Add more Olive oil to thin the dressing if required.
Drain and rinse canned beans, set aside in a sieve or colander to remove excess moisture.
Trim ends from fresh green beans and put into rapidly boiling water for aprox 2 mins.   Beans should be crisp.  Submerge beans in ice cold water to cool quickly (stops cooking and retains colour and crispness. Set aside to remove excess moisture, failing to remove moisture will result in a watered down flavour to the salad. Use paper towel if necessary
Cut green beans into one-inch lengths.  Combine the rinsed canned beans and other raw ingredients in a container that can be tightly sealed.  Chop mint with a very sharp knife so as not to bruise and add to bean mixture.  Add the dressing and toss to combine.
Allow salad to rest for 2hrs before serving.  The salad will keep for several days in the refrigerator and improve in flavour.
Wet vegetable options will reduce the keeping time; cucumbers and tomatoes for example can be added at serving time.