Mocktails
Mixology, Bitters and Art of Mocktails
I have a secret desire to write a book on mocktails, an inspired collection of non-alcoholic beverages for patients I suggest to temporarily reduce alcohol consumption.
Mixology (the knowledge of drink chemistry combined with the art and craft of mixing drinks) is regaining popularity in the bar industry.  By utilizing a few of the ingredients used in cocktails, we can be inspired to create some fairly decent non-alcoholic versions.
Cocktail 'bitters' are my favorite ingredient to use in a mocktail. Traditionally used as a 'medicinal digestive', they are made from a mixture of herbs, seeds, roots and/or fruits. The flavor is pleasantly bitter and adds depth and dimension to beverages, be that a cocktail, mocktail or basic mineral water.
Small batch, artisanial producers are available in Calgary at specialty stores such as Silk Road Spice Merchants, the Cookbook Company and select liquor merchants.  There are endless flavours and combinations.
Here are two mocktails I've created… citrusy and savoury…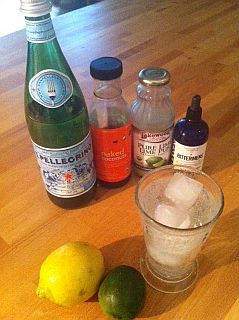 Cool Citrus (a twist on the classic 'Bitters and Soda')
10 oz Pellagrino or other carbonated mineral water
1 Tbsp fresh or bottled organic lime juice
10 drops of Hopped Grapefruit bitters
1 tsp. raw, organic coconut nectar (available at health food stores)
Stir until nectar blends, then add ice….
Ceres' Mocktail (version of a Bloody Mary, named for the Roman Goddess of Agriculture!)
2 ripe tomatoes (tastes best if organic, home-grown or heirloom)
¼ raw red pepper
¼  fresh jalepeno (de-stemmed, de-seeded)
½ tsp prepared horseradish
2 Tbsp. organic lemon juice, fresh or bottled
½ tsp tamari (rich, low-salt, usually gluten-free soy sauce) or Bragg's liquid Aminos
5 drops of Celery bitters
Puree all ingredients in blender. Add water to desired consistency. Pour over ice. Garnish with celery or asparagus.
Stay tuned for some seasonal fruit-inspired recipes later this summer…Salut!