Veggie Butternut Squash Pasta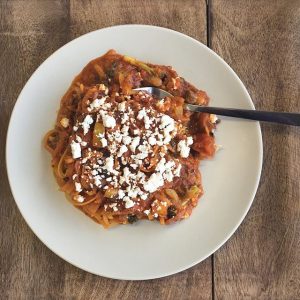 Ingredients:
1 tbsp of extra virgin olive oil
1 medium onion, sliced
1 small head of broccoli, chopped
6 white mushrooms, sliced
1 bell pepper, chopped
3 cloves of garlic, pressed
½ cup of water
2 cups of spiralized butternut squash
1 cup of spiralized zucchini
1 jar of marinara sauce
1 tsp of garlic powder
1 tsp of oregano
1 tsp of onion powder
Salt, pepper, and chili flakes to taste.
Optional: Goat feta
Instructions:
Turn on frying pan over medium heat and add oil, onions, and broccoli to pan, cover and let simmer for about 5 minutes. Add in garlic, peppers, and mushrooms, and let simmer for 2 minutes. At this point add in your squash and zucchini with the water and cover, allow simmering for five minutes. When all of the vegetables are cooked through, pour in the jar of marinara sauce and the seasoning and allow simmering for another 5 minutes. This dish is best served hot. Garnish with fresh herbs or your favourite cheese substitute.