MULTI SEED CRACKERS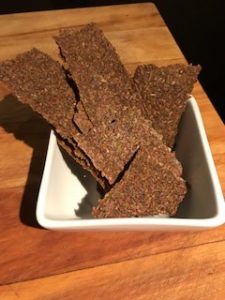 Flax crackers are a great substitute when you're diet is grain-free.  These crackers look like bird food, but hey, birds have got lots of energy!
These crackers are low-carb, paleo-approved, gluten-free and deliciously crunchy.
I make these for social gatherings where I'll be serving appetizers and light snacks or when I want something crunchy.
They are easy to assemble, but watch them carefully in the oven as they can get too crispy if left in even a minute too long.
Ingredients:
1 cup flax seeds
3 Tbsp chia seeds
1/2 cup pumpkin seeds
1/2 cup sunflower seeds
1/2 cup sesame seeds
1.5 tsp salt, pinch of pepper
1 tsp. baking powder
Optional flavourings: 1 tsp of dried herbs; Italian blend, herbs de'Provence or chili flakes or ¼ tsp granulated garlic or onion
Directions:
Heat oven to 300 degrees and line a cookie sheet with parchment paper.
Mix dry ingredients together, then add 2 cups of water and let sit for 10-15 min.
Stir the mixture occasionally so water is well mixed into the batter.
Spread thinly (about ¼ inch or less) on a cookie sheet (helps to use a spatula and your fingers dipped in water)
Bake for 25 min on one side, remove from oven, score with a knife or pizza cutter to desired sizes and shapes, then flip the crackers and bake for another 20 min.  Keep a watchful eye in the last 10 min to prevent crackers from being overdone.
Cool completely and store in an airtight container for up to a week, or freeze up to 1 month. If they soften when stored, return to a 300 degree oven for 5 min to restore crispness.