Cream of Carrot Soup with Leek and Fresh Ginger (gluten-free)
Contributed by Opa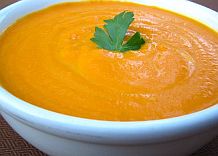 Ingredients
8 Cups of Chicken, Turkey or Vegetable stock
2-3 lbs carrots, peeled (use large mature carrots)
3  leeks, ( slice lengthwise and wash out sand, use as much of the inner green leaves as possible as it   adds to the subtle flavour and adds a lot more fibre)
1 yam (peeled)
4 stalks of celery
1 piece of fresh ginger root peel and grate aprox. 3inches long (I use the blender on grate with about 1 cup of water.   Strain and use immediately)
1 teaspoon ground black pepper
1 teaspoon ground nutmeg
Salt (to taste, only when soup is finished and pureed)
Preparation
In a large pot bring stock to a boil.
Chop all vegetables into small pieces.  When the carrots are chopped into approx. ½ inch pieces step 3 is much easier to do than if you sliced the carrots into rounds.
Sauté leeks, yam, celery and carrots.  Leeks are sautéed lightly until they are soft only. Celery and the ginger are also sautéed gently.  The real secret in the preparation of this recipe is in the browning of the orange vegetables (carrots, yam, or squash).  The browner (without burning) the better.  This is the most tedious part of the preparation and may require several fry pans going at once.  Caramelizing of the sugars in the mature carrots also distinguishes this dishes flavour from all the other carrot soup recipes.
Add the sautéed vegetables to the stock as well as the nutmeg.  Reduce the heat, cover with a lid and simmer until the carrots and yam are soft.  Be sure to use a temperature setting low enough to keep bottom from setting.  2 hours should be sufficient.
Allow soup to cool to room temperature.   Puree the soup in a blender in small batches.  The soup should be thick and smooth.   I have a large salad bowl that allows me to add all the cooled pureed soup before warming to serve or freeze for storage.  This soup freezes very well, I am convinced it even improves the flavour.
To serve reheat but do not allow to boil.