MASOOR DAL (Red Lentils) WITH SPINACH AND LEMON (slow cooker)
Contributed by Opa
(10 servings) This Indian main dish has been adapted to a crockpot method of cooking without too much compromise in flavour.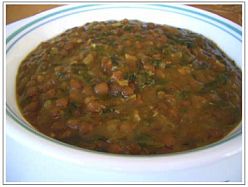 INGREDIENTS
3 cups (750 ml) masoor lentils (red lentils)
1/2lb (225g) washed spinach leaves chopped
6 cups (1 ½ litres) water
3 red onions or 1 very large Spanish onion (approximately 1 ½ lbs.)
¼ cup (125 ml) Vegetable oil
1 teaspoon (5ml) cumin seeds
3 to 4 small tomatoes chopped coarsely (1 can chopped tomatoes)
2 tablespoons (30ml) fresh finely chopped ginger
1 ½ teaspoons (7ml) salt
1 ½ teaspoons (7ml) turmeric
2 teaspoons (10ml) garam masala (see Note)
¾ teaspoons (3ml) of cayenne pepper (adjust to taste)
Juice of half lemon (Fresh lemon tastes much better than bottled lemon juice)
Preparation
Wash lentils and put into a large slow cooker along with spinach and the 6 cups water
Fry the onions until browned in a large pan, turn heat to medium and add the cumin seeds
When the cumin is browned add the tomatoes, ginger, salt and the other spices. Stir and continue to fry this mixture until it is thick and fragrant paste
Scrape the mixture into the slow cooker, stir and cover
Turn heat to low and cook for 8 hours
Sprinkle the dal with the lemon juice just before serving
As an accompaniment, you can serve with: yogurt and sliced cucumbers.
Note: Garam Masala – This may be purchased prepared in most East Indian food Stores. There are as many recipes for this aromatic blend as there are Regions in India.
½ tsp black peppercorns
½ tsp black cumin seeds or use regular cumin seeds which are more common
¼ tsp whole cloves
¼ tsp cardamom seeds
2 crushed bay leaves
2 tbsp dried mint
¼ tsp cayenne mixed with ¾ tsp paprika
½ tsp each; ground ginger, nutmeg, ground cinnamon
Grind in a spice or coffee grinder