Spicy Butternut Squash Soup (Gluten-Free)
Contributed by "Opa"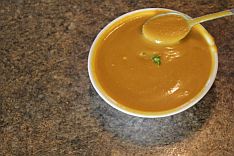 INGREDIENTS
2 Tbsp  olive oil or sesame oil
2 onions, chopped
1-2 cloves garlic finely chopped
1 Tbsp Jamaican style curry powder or red curry paste
1 tsp ground coriander
6 cups chicken stock (home made is best because you control the salt) stock should be strong and well seasoned with sage, thyme, marjoram, and bay leaves
1 medium sized Butternut Squash (about 1.5Kg /3lbs)  See Note re: squash preparation
½ cup cream Goat's cheese
¼ cup chopped Parsley or Cilantro
Preparation
NOTE:   Prepare squash by peeling and cubing into 1 -2 inch pieces.
Squash may be difficult to peel.  As an alternative, it can be cut in half with a very large knife directly through the centre lengthwise.  Scrape out the seed bulb and oil the open sides lightly with oil.  Bake the two halves on a baking sheet or shallow pan lined with foil.  This can be done in a BBQ or any time you use the oven.    Scrape the squash out of the baked skin and set aside until ready to use.   Squash can be prepared well ahead and frozen using this method or by peeling, cubing and boiling.
In a large saucepan or Dutch oven, heat the oil to medium heat.  Add the onions stirring lightly for 2-3 min., and then add the minced garlic and sauté for an additional 2-3 min. or until the onions are almost translucent.
Add the 1 tsp. of coriander to the onions and garlic and sauté for another 2 min.
Add the chicken stock and the squash and bring to a boil.  Add the curry powder cover and simmer the soup for about 30 min or until the squash is very tender.  Stir occasionally.
Pour in batches into a blender or use a hand blender and blend until pureed.  Return to saucepan, and add the cream cheese.  Cook on low heat until the cheese is melted and the mixture is well blended stirring with a wire whisk frequently.
Hint:  The sesame seed oil and the Red Curry Paste gives this soup an Oriental flavour.