Strawberry Spinach Salad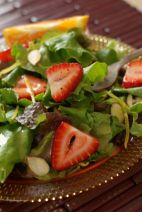 Ingredients:
4cups of Fresh organic spinach
2cups of Fresh organic strawberries – sliced
1/4cup of raw sliced almonds
Dressing:
2tbsp of sesame seeds
1tbsp of poppy seeds
1/2cup of organic coconut sugar
1/2cup of extra virgin olive oil
1/4cup of white wine vinegar
1/4tsp paprika
Instructions:
Mix all ingredients together. Mix dressing together.  Pour dressing over salad and mix. Enjoy!