Cauliflower Broccoli Mash
Contributed by Dr. Julie Miller
This is one of my favorite side-dish recipes from The Whole30®, a paleo-friendy anti-inflammatory clean-eating program I recommend extensively in my practice. I switch up the flavor using different blends from the Spice Sanctuary, a local company whose organic spices can be found throughout Calgary (http://www.spicesanctuary.com/stores.html). My favorites spice blends are Hola! Mexicana, Jamacian Me Tasty, and Morrocan Harmony.
Serves 4 Prep Time 10 minutes  Cook Time 15 minutes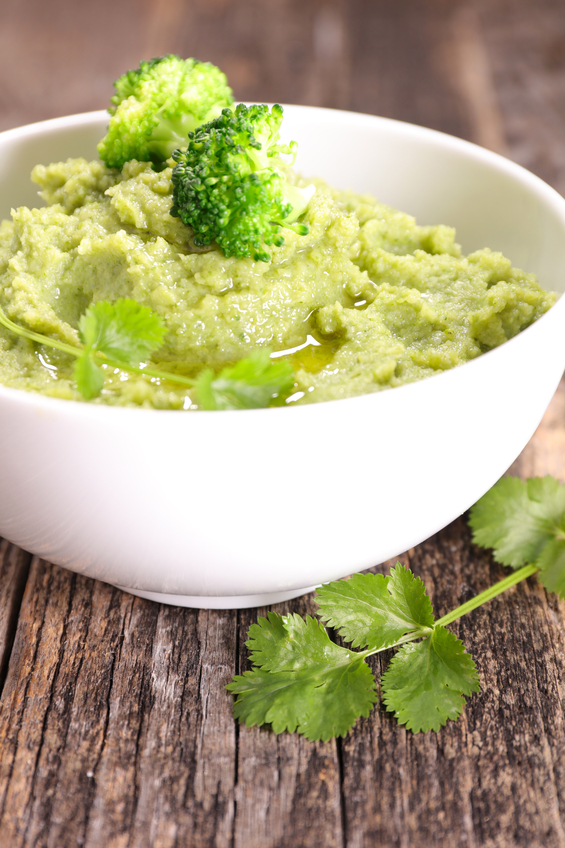 Ingredients:
1 ½ cups chicken or vegetable broth
1 head cauliflower, cut into florets
2 bunches of broccoli, cut into florets
3 cloves garlic
1 cup coconut milk
2 tbsp clarified butter or ghee
1 tsp salt
¼ tsp black pepper
1 tbsp minced fresh parsley
Instructions:
On medium-high heat, bring the broth to a simmer in the saucepan then add the cauliflower, broccoli, garlic, and coconut milk. Cover and cook until the florets are fork tender (12-15 minutes).  Place half of the florets and liquid into a food processor and blend on low speed until smooth consistency and transfer to a bowl (because of the volume it will need to be processed in batches). Puree the remaining florets and liquid and add the first batch back into the processor along with the clarified butter, salt, and pepper and pulse until well mixed. Add the parsley and continue blending on low until completely smooth. This dish reheats well.