Seaweed Salad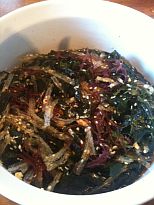 Ingredients
Seaweed salad mix by SeaVegi (mixture of Wakame, Agar, Suginori, Tsunomata, Mafunori
Directions:
Dehydrate seaweed by soaking in water for 7 minutes.  Then drain the water.
Salad Dressing Recipe
Ingredients
3 tbsp rice vinegar
3 tbsp tamari soya sauce
2 tbsp Asian sesame oil
1 tsp of minced garlic
1 tsp of crushed red pepper
2 tbsp of sesame seeds
Directions:
Mix the rice vinegar, tamari soya sauce, Asian sesame oil and garlic together.  Pour over seaweed salad and mix together.  Add red peppers and sesame seeds on top.