Spinach with Sesame and Garlic
Contributed by Opa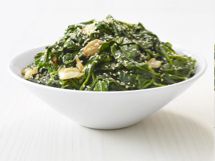 Ingredients
3 Tbsp. (45 ml) dark sesame oil
1 to 2 Tbsp. (15 to 30ml) minced garlic
1 lb (450 g) fresh spinach, soaked in water to clean, drained, excess water squeezed out, large stems removed and discarded, leaves roughly chopped
1 Tbsp. (15 ml) sugar (sugar compliments the saltiness of the soya sauce, adjust to taste)
1 Tbsp.  (15 ml) soy sauce (use gluten-free soy sauce)
Salt to taste
1 to 2 Tbsp. (15ml to 30ml) sesame seeds, toasted
The sturdier texture of mature spinach stands up better to sautéing than baby spinach and it is a more economical choice. I prefer to serve baby spinach raw.
Method
1. First toast the sesame seeds. Heat a non-stick skillet on medium high. Add raw sesame seeds and use a spatula or wooden spoon to stir. The seeds may make a popping noise like popcorn. They will toast quickly, stir constantly until they brown and smell like they are toasted. Remove from pan into a separate bowl as soon as they are done.
2. Heat 2 tablespoons of the sesame oil in a large skillet over medium heat. Once the oil is hot, add the garlic. As soon as the garlic begins to sizzle (do not let garlic brown), add the spinach and cook, stirring occasionally, until the spinach is completely wilted. Turn the heat to low.
3. Stir in the sugar and soy sauce. Remove from the heat. Add salt to taste. Serve hot, warm, room temperature, or cold, drizzled with the remaining sesame oil and sprinkled with the toasted sesame seeds.
Serves 2-4.