Quinoa Salad
When I was doing my internship at the Paracelus Klinik in Switzerland, I tacked on a couple days and visited the South of France.  I went to this restaurant on the beach of the Mediterranean Sea in Nice, which was not only a beautiful setting but the food was amazing.  I ordered this salad, it was so simple but so delicious.  I tried to recreate it when I got home.  It's not the exact same, but I'd say it's a close second.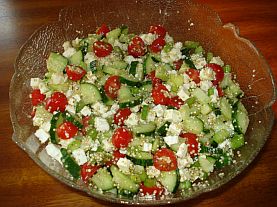 1 cup of chopped celery
1 cup of chopped cucumber
¼ cup of green onions
½ cup of halved grape tomatoes
1/4 cup of quinoa
2 tbsp of olive oil
1 tsp of pesto
½ cup of crumbled goat's feta
Cook the quinoa with ½ cup of water.  Mix all ingredients together.