Chewy Chocolate Brownies (Gluten-Free)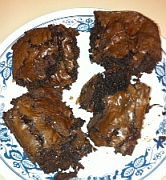 Ingredients
1 1"2 cups sugar
1"2 cup butter
1"2 tsp salt
1 tsp. vanilla
3"4 cup cocoa
3 large eggs
3"4 cup tapioca flour
1 tsp. baking powder
1 cup semi-sweet chocolate chips
Directions
Preheat the oven to 350°F.
Heat sugar, butter and salt in a sauce pan over medium heat. Constantly stir until the butter melts.
Pour mixture into a bowl, blend in vanilla and cocoa.
Add eggs, mix well.
Stir in baking powder, flour and chocolate chips.
Pour batter into greased 8″ square pan.
Bake for 33-38 minutes or until the top is set.
Let cool for 15 minutes before cutting.
ENJOY!