Chocolate Cupcakes (gluten-free, dairy-free)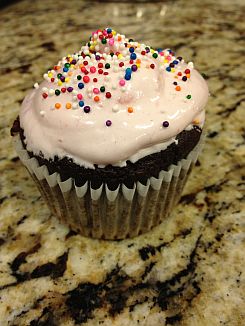 Ingredients:
2 medium eggs
¾ cups raw honey
1 ½ cups topped,tailed and very finely grated zucchini
1 cup brown rice flour
½ cups organic cocoa powder
2 tsp baking powder
¼ tsp sea salt
Directions:
Preheat the oven to 350°F. Grease the cupcake tray.
Separate egg yolks and egg whites into separate bowls
Mix the egg yolks and honey in a large mixing bowl. Beat in the grated zucchini followed by the flour, cocoa powder, baking powder and salt. Beat again to make sure that all the ingredients are mixed together well.
Beat the egg whites until white and fluffy. Gentle fold egg white mixture into other mixing bowl.
Pour into cupcake baking cups and bake for 30 minutes.
Let cool completely before icing.
Icing
Ingredients:
¾ cups icing sugar
2 tbsp water
¼ tsp cream of tartar
1 egg white
Small pinch of sea salt
3 strawberries
Directions:
Blend 3 strawberries until pureed.
Place egg whites, icing sugar, water, cream of tartar and sea salt in a big metal mixing bowl over a pan of boiling water. Stir with a clean metal spoon for 2 minutes exactly to dissolve the sugar.
When the mixture is warm and the 2 minutes are up, remove the bowl from the heat. Add pureed strawberries to the mix and beat with a hand-held electric whisk. Whisk for 9 minutes until cool. The mixture is ready to use when it's standing up like snow covered peaks.