Keto Cauliflower No-Potato Salad…for Summer!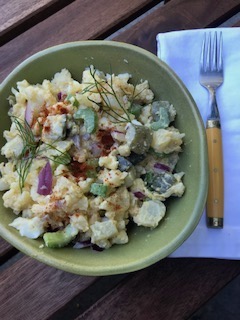 If you love potato salad, this version is entirely satisfying without the potatoes!
It is inspired from Leanne Vogel's 'The Keto Diet' cookbook, one of my favourites…a
meal in itself! Add some chopped spinach or kale for added greens!
Ingredients:
1 large head of cauliflower, chopped into bite-sized florets
1 stalk celery, chopped fine
½ red onion, chopped fine
2 large dill pickles, chopped fine
1 Tbsp dill pickle juice
½ cup avocado oil mayonaisse or make your own aioli (easy recipes online)
1 Tbsp Dijon mustard
2 tsp fresh dill weed, finely chopped (or ½ tsp dried)
5 hardboiled eggs, peeled and chopped
sea salt and ground pepper to taste
smoked paprika or chives to garnish
Instructions:
Slightly steam cauliflower for 5 minutes until tender (or roast it at 350 for 30
minutes (though you may have to use more as the cauliflower will shrink). Cool.
Combine all other ingredients except eggs, then add cauliflower and toss until well
covered. Fold in the chopped eggs, season with salt and pepper, garnish optional.