Sweet Potato & Black Bean Quesadilla
Contributed by Jana McDermid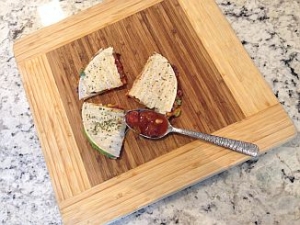 Makes 2
For the quesadilla filling
1 small / medium Sweet Potato // peeled + cubed
1 tsp Mrs.Dash Southwest Chipotle blend seasoning
1/2 cup green pepper  // seeded + chopped
2 green onions // sliced
1/2 cup fresh or frozen corn kernels
1 tsp  olive oil or coconut oil
For the black bean spread
2 cups of black beans, drained + rinsed
juice of 1 lime
1 tsp hot sauce of choice
(2) 10″CornTortillas
extras // salsa, guacamole, goat yogurt+ chives
assembly:
Peel and cube your sweet potato – steam sweet potato using a steamer basket on the stove.
Once sweet potato is fork tender, place in a medium bowl and add chipotle seasoning.
Using a rubber spatula or potato masher, mash sweet potato and set aside.
While the sweet potato is steaming, heat a medium saute pan over medium/high heat- drizzle oil into pan.
Add chopped pepper, corn and sliced green onions, and sauté until peppers and onions begin to soften. Remove from heat.
In the bowl of your food processor (a mini processor is great if you have one) – add drained + rinsed black beans, juice of 1 lime, & hot sauce. Process until black bean spread is smooth.
Lay your tortillas out on your work surface – spread half of each tortilla with the sweet potatoes and the other side of the tortilla with the black bean spread. Layer the veggie mix equally over the black bean side of the tortilla. Bring the side of the tortilla together as if you are closing a book, repeat with the other tortilla.
You can either pan fry the quesadillas and cook until golden brown, flip and cook the other side the same. About 2 minutes per side – I have a Panini press and that worked really well too.
Remove from pan/Panini press ,cut quesadilla into 3 triangles and serve with your favorite salsa, guacamole, goat yogurt or chives!
Enjoy!