Flaxseed Cinnamon Bun Muffins (based on a recipe from 'The Keto Diet' by Leanne
Vogel)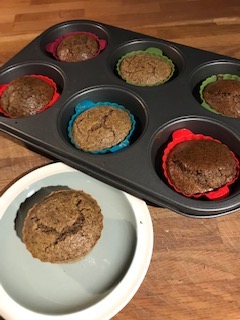 Ingredients:
2 cups ground flax seeds
1/2 c. granulated xylitol or erythritol or 1/2 tsp liquid stevia
2 Tablespoons ground cinnamon
1 Tablespoon baking powder
½ tsp. sea salt
5 large eggs
½ c. water, room temperature
1/3 c. melted coconut oil, or refined avocado oil, or melted ghee
2 tsp. vanilla extract
Instructions: 
Preheat oven to 350˚
Line a 12-count muffin pan with paper liners or silicon cups.
In a large bowl, whisk flax seeds with the erythritol or xylitol, cinnamon, baking
powder and salt until fully combined.
Place the eggs, water, oil, vanilla in a blender. Add liquid stevia if this is the
sweetener option you're using. Blend until foamy, about 30sec.
Transfer the liquid mixture to the bowl with the flaxseed mixture. Stir with a spatula
just until incorporated.
The batter will be very fluffy. Allow to sit for 3 minutes.
Spoon the batter into prepared muffin pan, filling each cavity 90% of the way full.
Bake for 13 to 15 min until a toothpick inserted in the middle comes out clean.
Immediately take the muffins out of the pan to cool (inside the baking cups) for at
least 20 min to set.
Enjoy!
Nutrients per muffin
Calories 199
Calories from
fat 137
Total fat
15.2g
Saturated fat
6.5g
Cholesterol
77mg
Sodium
116mg
Carbs 8.8
Dietary fiber
6.5
Net carbs 2.3g
Sugars 0g
Protein 6.8g