Cauli/Broc Pizza Crust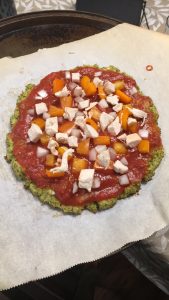 Ingredients:
250g of Cauliflower
250g of Broccoli
2/3 Cup of water
1 Egg
1/3 cup of goat cheese
1 tsp Oregano
1tsp of Garlic Powder
1/2 Teaspoon of onion powder
Salt and Pepper to taste
Instructions:
Preheat oven to 425C
Start by ricing the cauliflower and broccoli in a food processor.
Add to pot with 1/3 cup of water and bring to a boil, once boiling reduce heat and allow to simmer.
Strain out the water and once cool, move the broccoli/cauliflower to cheesecloth and remove all excess water.
*Removing all of the water is crucial to your crust staying together and not crumbling
Move cauliflower/broccoli mix to a small bowl and mix together with spices, then add in the egg and goat cheese. Mix well.
Line a pan with parchment paper and begin to spread out the cauliflower,broccoli dough with your hands, pressing it into approximately a 9′ circle. It should be about 1cm thick.
Bake at 400 for 30 mins
Remove crust and dress with favourite toppings
Return to the oven and bake for 12minutes.