TESTIMONIAL
Accelerated Recovery from Significant Sport Injury
A Surgeon and IRONMAN Finisher's Story
BY: Dr. M. Kameda  B.Sc. (Kinesiology), M.Sc. (OT), MBChB (Medicine and Surgery, Glasgow, UK)
In April 2010, after having been training for Ironman Nice for the previous 10 months, I ruptured my right Achilles tendon playing a friendly game of badminton with my husband.  He rushed me to the nearest UK Accidents and Emergency department where I was assessed within 20 minutes and given the option of either conservative treatment (graduated cast in plantar flexed position for 6-8 weeks, non-weight bearing with return to full activity after 6-12 months) or surgical repair (with cast in plantar flexed position for 4-6 weeks, touch weight bearing, with return to full activity in 6 months).  Though I was really upset about not being able to run in the Northern Marathon with my husband in 2 weeks, I secretly took consolation in the hopes of still participating in the Ironman (Very much discouraged by the orthopaedics doctors).  I weighed the pros and cons and I opted for surgical treatment, which would give me the greatest hope of seeing the finish line in France.  I was allowed home for the evening and asked to return at 8am for an elective 9am Achilles tendon repair surgery.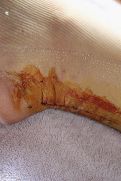 When I came out of the operating room, I was informed the rupture was lower than usual location and therefore the scar was longer, otherwise, there were no complications.  I went home later that afternoon with crutches and a back slab cast and was asked to return for a light-weight cast in 48 hours. Still 11 weeks from the Ironman, I felt it may still be possible for me to participate if I was cautiously aggressive with my rehabilitation.  This was where my background in Kinesiology, Occupational Therapy and Medicine helped me to make informed choices about what to do here (I knew there was a reason why I was in university for so long!).  On my return from hospital, I didn't sleep the first night and spent the entire time reading every peer reviewed journal article available and numerous blogs describing the advantages of early weight-bearing with certain Achilles repair techniques.  I was fortunate to have been able to read my operation note (because I worked in that hospital as a intern at the time) to see what technique was used in the tendon repair and decided for myself that the re-rupture risk was low enough for me to treat myself with a rocker bottom air boot.  I ordered the boot online and the boot arrived a day after the light-weight cast was set. My husband helped cut me out of the cast and I placed myself into the boot with heel raised at 160 degrees to start.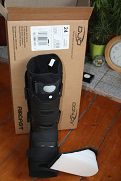 I continued to keep up my aerobic training by continuing on my trainer and was back on my bike trainer on day 2 post-op.  Unfortunately, by the second week, I started to feel considerable pain in my Achilles.  More so than before the surgery when I actually ruptured the tendon.  I then started to read about what may have been happening to me and came across numerous articles of post-Achilles repair complex pain syndrome, to which there really was very little successful treatment options.  I continued to train through the pain and by week 3, I was back in the gym on the cross trainer with my rocker bottom boot.  Five weeks after surgery I was into a shoe with a slight heel raise and able limp to the side of the pool on my tip toes in order to do full workouts in the pool.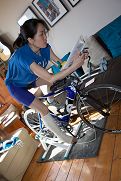 Prior to all of this, after passing all my Canadian Medical Examinations, I had organized a 3 week observership in Calgary to study the Canadian surgical practices in preparation for my eventual return to Canada as a surgeon.  Though I ignored the dull aching pain in my Achilles for the first 5 weeks, after 3 weeks of continuous standing in the OR, observing 4-6 hour surgeries, the pain kept me up at night and was getting significantly worse.  Despite keeping up the aerobic end of my ironman training, for the first time since the operation, I was starting to become doubtful of my participation in France as I hadn't done any actual running in nearly 8 weeks.  The rehabilitation course I was taking seemed to be taking far longer than I anticipated and felt at this rate of recovery, I wouldn't make my June 27th Ironman deadline.
Fortunately, I was staying with Dr. Melina Roberts at the time and she told me about Visceral Manipulation and how it helps her patients.  I thought it was an interesting intervention for "visceral" problems but didn't understand how it would help my Achilles pain.  She described the biology behind the pain I was experiencing from a different paradigm from allopathic medicine in terms I could understand. I was all for any treatment which would help alleviate this pain and stiffness.  As a very different approach to what I would have considered to be "worked on", it was very light and focused manipulation on the layers of scar tissues around my surgical site.  I must say that during the treatment, I wasn't sure anything was really happening.  Even that evening, I went to bed wondering if I felt any different.  It was as soon as the next day that I noticed a significant improvement in both stiffness and pain.  After a second treatment, I was able to "trot" slowly with a small heel raise in my running shoes on the sidewalk.  By the end of week 9, I ran daily on the treadmill instead of the cross trainer and and managed 25km by the day before my flight (i.e., a week before the event to acclimatize). The evening before the race, still slightly worried, I wrote the important cut off times I had to make in order to make it to the finish before the 16-hour deadline.
On June 27, 2010, I completed Ironman Nice in 14 hours and 41 minutes.  I know I have Dr. Roberts and the encouragements of my amazing husband to thank for getting me to that ironman finish line.