December 2016 Newsletter
Chance to WIN $100 Gift Card!!
Do you want to win a $100 Gift Certificate to NOTABLE Restaurant? All you need to do is write a review on Facebook, Google+ or email us a testimonial for our website. Many people don't know what to expect when they come into our clinic, help us to be able to help more people by writing a review. You will be entered into the draw for every review you write. Thank you in advance for taking the time to write a review!!
What's NEW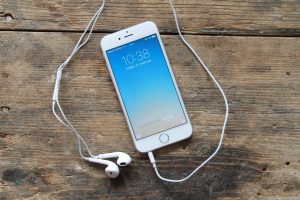 Dr. Roberts podcast, Building Health with Dr. Melina Roberts, is now available on iTunes. Please subscribe so that you don't miss an episode. And if you like what you are hear please leave a review and help us to spread the message of "Building Health" to a larger community!
Featured Article
I Love My New Routine!
BY DR. JULIE MILLER
In the past, I have written articles on topics I am passionate about such as healthy stress management, metabolic optimization, and heavy metal toxicity, but haven't really touched on my personal experiences as naturopathic doctor and health-conscious consumer.  This is about to change because I want to share the discovery of a product that has made a huge impact in my life: routine natural deodorant!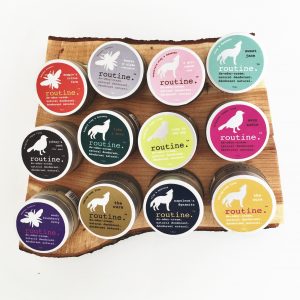 My search for a natural deodorant began over 15 years ago but I eventually gave up because the products I tried were either ineffective or made the underarm odor worse. I have always experienced fairly profuse underarm sweat and ended up using Secret Clinical Strength antiperspirant which didn't really stop the sweating but provided odor protection. Although I knew the daily ritual of applying a 20% concentration of aluminum zirconium tetrachlorohydrex glycine complex as well as a slew of other chemicals to my armpits wasn't ideal, at the time it seemed my only option.  However, a couple things started to cause me greater concern: intermittent skin rashes on my breasts and a provoked urine test for toxic metals showing a level of aluminum that was 3.5 times higher than the ideal upper limit. The armpits are in very close proximity to the breast tissue and research has shown that aluminum is not only absorbed by the body, but can be deposited in breast tissue where it can trigger inflammation and potentially lead to abnormal cell changes and cancer development. Although there are other sources of aluminum, such as vaccinations and aluminum cook wear, I felt that my super strength antiperspirant was most likely the prime culprit for my high aluminum levels and possibly my rash. I knew something had to change.
I had first seen routine at a local yoga studio and was impressed by their ethically crafted product formulated from clean, natural ingredients in a variety of unique and playful scents.  The fact that routine was developed by local Calgarian sisters, Neige and Pippa, sealed the deal and I knew I had to give it a try. They offer three different formulations depending on your needs and because of my sweaty tendencies I went for the beeswax and clay based formula and purchased samples of the scents in this category. Sweet Jane ended up being the scent that worked the best for me and I love it! They also have formulations that are suitable for vegans, pregnant and breastfeeding gals, and a new formula without baking soda for those with very sensitive skin. Although I have experienced some skin irritation if I apply routine right after shaving, this is prevented if I shave at night before bed. I've been using routine for over a year and have had no more rashes on my breasts and am planning to re-test my aluminum level in the very near future to see how that has been impacted as well. Overall, I'm a very happy customer and have told many patients about routine in an effort to reduce their daily exposure to toxic chemicals that can undermine health and wellbeing. For more info about routine natural deodorant, including where it can be purchased, please visit: www.routinecream.com.
Featured Recipe
Contributed by Valentene
It is sometimes hard to get enough fruits and veggies into my kids. I find that smoothies are great ways to pack a bunch of nutrients in and naming it "The Grinch Smoothie" makes it even more appealing.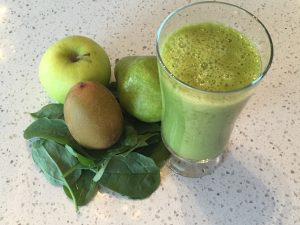 Social Media